Scan to Email Help
Troubleshoot your copier and office equipment with the Office Experts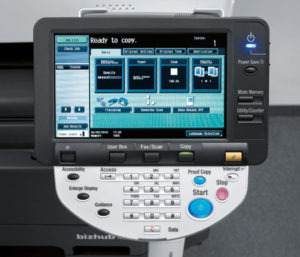 Here is a solution for a problem users may have when using Scan to Email. Because the Scan to Email feature on a copier relies on the network (and possibly an offsite email server), and email attachments are commonly size restricted, a Scan to Email operation may not complete successfully. In this case, you may either need to break up your scan document, if its too large, or wait until the network issues have been resolved.
On all Konica Minolta copiers, a simple solution is to use a USB memory stick to save your scan job. Simply insert the USB memory into the USB port located next to the display console, wait a moment for the copier to read the contents of the USB memory, and then select "Save to External Memory" from the pop-up menu.
The copier will then present you with the familiar scanning screen and you will be able to choose your file name, quality, and type of scan. Once the last page has been scanned, the copier will ask you to wait a moment before removing the USB memory stick, as it is still saving the file. Then you can return to your workstation and open the file.