SEO, or search engine optimisation – is internet jargon for getting you listed on Google.  it can make-or-break your business.  As far as advertising goes it's a higher return on investment than traditional means of promotion – newspapers and magazines are slowly seeing less revenue because users are going online to find what they are looking for.
Users feel a type of freedom in finding the information they need themselves – younger users especially can feel manipulated by ads or coursed into a sales pitch.  Consumers do research before they buy anything – and Google is where they start.
Contact us and talk to our Engine Optimisation team to find out more about our packages and how they can help you be seen.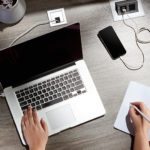 CONTENT
The right keywords
Domain authority
Site content
Fast loading site
Original images
LINKS
Links to you
Related Links
Authority Links
Social media links
ACTIVITY
Users
Updated content
Low bounce rate
Longer visits
HOW DO I GET ON GOOGLE?
Content and keywords are imperative for a good SEO strategy. And not copy and paste – it should be original content (cause Google knows) and structured – with headings (cause – again … Google knows)
Think in terms of campaigns – start small with no more than 10 keywords in each campaign
Type how your audience speaks – 'Long-tail keywords':

"ice cream" – use this if you think you can battle the millions of domains with more Domain authority worldwide.
" homemade ice cream in Joe Batt's Arm" – is a long-tail keyword. Notice it uses a phase structure and not just a word.  it's easier to rank for and it'll help with voice-searching and geotargeting (if you served Joe Batt's Arm [yes, it's a real place – look it up]).

Get Active – comment on other sites that relate to your business.  You could post on a message board about ice cream – or travel sites about fun things to do while visiting Joe Batt's Arm.  Adding your link will get you traffic from that reputable site – and therefore Google will associate you with it – and increase your domain authority.
Make sure you stay active – otherwise Google will see you as a spammer.
Post to Social Media – but remember to stay 'Social', those platforms aren't for your ads alone, you need to give users a reason to follow you.
SEO Resources
Google changes it's algorithms constantly, for a number of reasons we're not going to get into here, but it ensures that the users are getting the results they are looking for.  Google put together a very informative page here to help you with your Search Engine Marketing.
Also here is a PDF from the lovely folks at Google, it's a little old but has some very helpful information to get your head around the Search Engine battleground.