As demands for new services and reduced costs of business continue to grow, printing businesses are embracing digital technology for solutions beyond paper.
As the gigabytes, terabytes, and petabytes of unstructured information pile up, organisations need methods to tap into, monetise, and strategically exploit the content.
The Why
Managing content across the enterprise is a challenge. The advent of technology has allowed us to create documents on a wide platform, store them on hard disk, cloud and print and store them anywhere.
To manage the dispersed information, Konica Minolta and Pinnacle provide an Enterprise Content Management Solution which captures the information right at the source regardless of the format and organises them in a unified system. In addition, by automating repeatable steps in the processes, it can reduce errors and ensure consistency and accuracy.
Our Solution enables businesses to minimise risks, providing you with a total visibility of the process, documents and information while reducing total cost.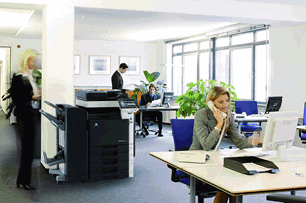 Your Newfoundland Business can thrive beyond any expectations with our modern technologies!
The How
Our solutions help to capture, manage, process, distribute and centralise important business content in a secure location without compromising compliance. It boosts productivity while encouraging collaboration among users and allow for easy sharing of information.
Leveraging on the power of bEST (bizhub Extended Solution Technology) where it is an open interface technology incorporated into Konica Minolta devices to serve as a shared platform for enhancing the work environment, users can move information faster.
With Konica Minolta and the Pinnacle toolbox of innovative solutions, users just need to scan and let the system do the work of auto capturing, indexing, foldering and initiating workflows for processing or approvals.