Phone calls from Google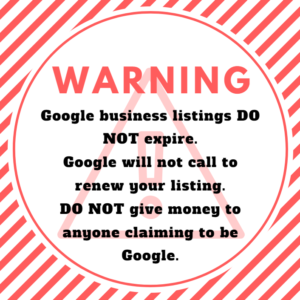 Unfortunately, not all phone calls from people claiming to be associated with Google are legitimate. Some business, and Newfoundland businesses included – have been contacted by an automated system asking the business owner to 'press 1' to renew your listing. This is NOT google.  Don't press anytihng just hang up.
But … me being me … i was curious.  I pressed 1, and got on the line with 'Kyle', he politely told me he ws from Google, and they were calling to renew my business listing, because it's going to expire at the end of February. I said … 'google business listings expire?' and he assured me they did.  He asked my name, I asked him what business listing I had with them – he gave me the correct information, and unsettlingly told me extra information. In the background I hear a loud voice saying:
"Okay, guys for the next hour i'll give you $10 cash for each sale!"
Google will NEVER:
​charge for inclusion in Google My Business or in Google Search.
offer to improve your search ranking or manage your business's online profile.
ask you for your password or verification code. You should never provide sensitive information about your account (like your password and verification code) to a caller.
If you receive a robocall—a call placed with a recorded voice—for any of the above reasons, it is not from Google. The Federal Trade Commission has established a Robocalls resources website with additional information about robocalls and steps you can take if you receive one.
Have you had a call like this?  Let us know in the comments below.